PORT-AU-PRINCE, Haiti – Political tension is mounting in Haiti as candidates and voters await the final results from the November presidential election.
Controversy erupted as to which candidates will advance to the Jan. 16 runoff after thousands of voters were turned away from the polls during the first round of voting since their names did not appear on registries.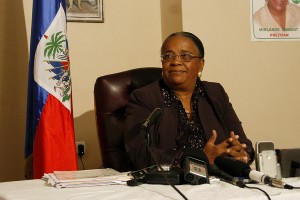 Preliminary results by Haiti's electoral council named law professor Mirlande Manigat the first-round winner with 31% of the vote, with Jude Célestin, the head of the government-run construction company, placing second with 22.48%, defeating pop singer Michel Martelly by less than 1%.
Martelly, 49, has been critical of the elections, and thousands of his supporters took to the streets to demand he advance to a runoff, which includes just the two leading vote-getters – Manigat and Célestin, 48.
Martelly said he will not accept any election decision made by the Electoral Council, which has been heavily criticized for announcing Célestin as a runoff contender despite independent exit polling that showed Martelly ahead.
"On Nov. 28, the people were wronged, as were the candidates. I won't compromise," Martelly said in a media conference, adding he wants all 19 candidates to participate in the runoff.
But Manigat, who has written books and taught courses on Haitian constitutional law, said the constitutionally mandated process is "not open for discussion."
"We must seek a judicial, constitutional solution, not a political one," Manigat said at a recent media conference. "The constitution doesn't allow three candidates in the runoff."
Click HERE to read the full story as it appeared at Info Sur Hoy.